Church History
Our Church History
1977- 2019

Open the pages of history and you will read the acts and deeds of those who have achieved and are still making history for those who shall follow.

The Vision ~
A young Evangelist preacher who just finished out a Revival in Los Angeles, California in July 1977, named Rev. Johnny Edward Brown felt led by the Holy Spirit to organize a Church.

As Moses felt, Rev. Brown had many excuses for not doing what God would have him to do. One significant excuse stated by Rev Brown " I had no one to go with me, and realizing the Lord told Moses to take his brother Aaron with him, I was inclined to believe that God was telling me to take my brother Ronnie Brown with me."

Rev. Brown and his brother set out to witness to family and friends one Sunday morning departing from their homes one going east and the other north seeking those whom they knew had not made a start to follow Christ. After a day in the vineyard, Rev Brown and his brother returned with the names of 43 people who decided to take up the cross and follow Jesus.

The Church was organized on September 1, 1977, in the home of Sister Rubia Iles at 1216 Nokomis Avenue. On that night 16 people were present.
The Charter Members
Rev. Johnny Brown Bro. William Brown
Bro. Ronnie Brown Sis. Debra Brown
Sis. Willie P. DeGraftenreed Sis. Shelia Brown
Sis. Virginia Andrews Sis. Lovie Jackson
Sis. Beverly Clark Sis. Bertha Ray
Sis. Barbara Andrews Sis. Undra Morris
Sis. Earline Titus Sis. Amy Turner
Bro. & Sis. Donald Bryant

By unanimous decision, Rev. Johnny Edward Brown, Sr., would be the Pastor and the name of our church would be Burning Bush Missionary Baptist Church.

We met each Tuesday at 7:00 p.m. from house to house, praying and singing, giving of our tithe and offering until we secured a church building. Our first Deacon and Treasurer was Bro. William Brown. Sis. Shelia Brown was our first Church Secretary and Sis. Earline Titus was our Assistant Secretary and Announcing Clerk.

We entered our first Church building on October 2, 1977, a storefront building at 2409 E. Eleventh Street. Rev. M. L. Brown, then an Assistant Minister of the Concord Baptist Church preached the entrance message. The Lord spoke His approval of the Church by adding three souls in our morning worship service. Sis. Dorothy Pryor, and her two grandchildren, Lisa and Rhonda Bailey. Our 3:00 p.m. guest was the Rev. Tommy Earl Brown and the Hopewell Baptist Church. At 7:00 p.m. our guest was the First New Life In Christ Church, Rev. Paul E. Ray, Pastor. The Church prayed for two goals to be met: $1,000.00 and 50 new members. At the end of the month, we had raised $1,100.00 and 29 members were added to the church.


After nine months at this location, the building needed too much work. We moved to South Dallas at the location of 2301 Jordan Street in June 1978.

On January 27, 1980, Pastor Brown, along with Deacon Brown and other guest Deacons and Pastors ordained the following brothers as Deacons: Deacon Cleavon Pate, Deacon Charles Wilson, Deacon Billie Andrews. Deacon Oscar Harts joined and was added to the Deacon staff. Ordained later were Deacon Ronnie Brown and Deacon Grady Anderson.

In 1980, we set out to build the Lord a Sanctuary. We purchased land at 3310 Overton Rd but were unable to get the building off the ground. Through the leadership of Sis. Lillian Hoskins as Building Fund Director, we were able to purchase land at 1530 Garza Avenue. We were still unable to get the building off the ground, "but we kept the faith". We worshiped at this location for eight years. During this time we purchased and paid off debts of a school bus, three church station wagons, van, and an organ.

In April 1985, the Kirkwood CME Church, the owners of our church building, decided to enlarge and add a parking lot to their church. But the Lord was in the plan. We had groundbreaking service at 1530 Garza in the "rain" with no finances in the bank and still not knowing how we would get the building built, but, we kept the faith.

May 1985, we moved to 5144 Dolphin Road into a building owned by the Hopewell Missionary Baptist Church. We called it the "Hopewell Bottoms". We worshiped and praised the Lord for six months in the Bottoms. Sis. Rubia Iles was appointed Building Fund Director and at the end of May, we started the building at 1530 Garza. When the building was half completed we were so eager to get there, we had a Praise Service in the church with no rooftop. Also during this time in the Hopewell Bottoms, two Deacons were added to the Deacon Staff, Bro. Ray Bailey and the late Bro. Mark Johnson who later was called into the gospel ministry.

On the third Sunday in November 1986, at 8:00 a.m. we motorcade from 1216 Nokomis Avenue to 2409 E. Eleventh Street to 2301 Jordan Street to 5144 Dolphin Rd to 1530 Garza Avenue for the ribbon-cutting ceremony. We marched in our new Sanctuary singing "We've come this far by Faith". The guest for our entrance services was the Hopewell Baptist Church, Allison Chapel Baptist Church, and Bro. Joe Norvell with the K.N.O.N. Radio Station and a host of pastors and well wishes from all around joined us that morning as we celebrated our Entrance Service. The Lord, through Rev. Tommy Earl Brown, blessed our hearts with a message "How To Enter God's Sanctuary." One more deacon was added to the Deacon Staff, Bro. William DeGraftenreed who is now an ordained minister.

In May 1994, the Lord gave our Pastor a vision, a vision to move from 1530 Garza Ave to 4943 Bonnie View Road, our present location.

Pastor Brown appointed Sis. Jettie Roberts as Building Fund chairperson. Through her leadership, the church purchased the land at 4943 Bonnie View Rd. Mr. Ed Williams, owner of the Gold Star Super Market donated $7,500.00 toward the purchase of the land. The church purchased the old church building of the New Hope Baptist Church of Royse City, Texas and moved it on the property, August 1994. Our groundbreaking ceremony was held in the "rain" again on September 1, 1994. Dr. Aubrey Patterson, Director of Church and Mission Development of the Dallas Baptist Association spoke words of encouragement.



Our first service was held at our present location on the third Sunday in November, "Our Annual Victory Day Celebration".

March 1996, our pastor's vision continued to unfold, as he told the congregation the plan. We started the reconstruction to our church building and enlarged the Sanctuary, added classrooms and church offices.

December 1998, we never dreamed that the small little white house that was moved from Royse City, Texas, would be this beautiful church that we now worship in. A building that meets our spiritual needs. The Vision to Reality was completed in December 1998 and the church dedication services were held on January 10, 12, and 15, 1999.

Our church is equipped with:
6 Sunday school classrooms for all age groups
Pastor Study
6 restrooms
Conference Room
Large Kitchen

Each year Pastor Brown set goals for our Church and through the year we are able to pay off various debts with our church anniversary funds as well to enhance the beauty of our church.

Events of the Vision that continue to unfold~

2001 ~ Preparation to open the Day Care
2002 ~ November, The Burning Bush Christian Academy Day Care open
2003 ~ Built a two-car Garage for storage and purchased 2 Vans
2004 ~ Purchased 2 portables to expand the Day Care, weekly actives and Worship Center

Sanctuary~
August 14, 2004, an electrical fire destroyed most of our church main building. On Sunday, August 15th was the opening of our 27th Church Anniversary. The morning after the fire the Deacon Board and members met the Pastor on the church parking lot. Pastor Brown gave us instructions and encouragement to continue on this Christian journey and to stay with the church. The Day Care was relocated to the Grace And Truth Baptist Church, 2019 Overton Road; Pastor E. Zachery. By faith, the members joined Pastor Brown on the parking lot again the next Sunday with instructions on where to go from here. Our Pastor informed the church that we would stay here and make preparation to worship in the portables. We closed out the 27th Church Anniversary at the Hopewell Baptist Church. Our guest was the West Mt. Horeb Baptist Church family, Rev. Billy Frank Mathews, Pastor.

In November, we secured a contractor, Mr. George French, and our very own Deacon Wesley Thomas as our Electrical Contractor. Pastor Brown, the General Contractor, redesigned our beautiful sanctuary as you see it now.


January 2, 2005, 11:00 a.m. we re-entered our main building. The 11:00 a.m. message preached to us by our Pastor "Entering the House of God" Psalms 122.

Our Re-Entrance and Dedication Service was celebrated in the month of January. The Theme ~ "Reviving The Spirit of the Sanctuary" – Isaiah 43:18-19.

By the end of the year 2009, the church had purchased a total of 6 vans for church and Christian Academy transportation and has paid off five. "Praise God."

In May 2010, we secured the former sanctuary of the Olive Grove Baptist Church that is now our Building B for Prayer Chapel and Educational facility.

Through the faithful leadership of our Pastor, the Burning Bush church family continues to bring souls to Christ.

2017 – First Sunday in November Pastor J. Edward "Moses" Brown, Sr., passed the torch to his son, Rev. Johnny E. C. Moses Brown, Jr. to continue the journey. Pastor Brown, Sr. wanted to make sure what he loved most The Church, he began remodeling the Sanctuary with the assistance of faithful members and the financial support of the membership God allowed him to see his vision come to pass. He only wanted to give God the best. We thank God and give praises to God for the faithful members who have stayed with the church during our transitions and in our valley days.


While grateful to God for a bright unforgettable past and a bright future, Burning Bush Missionary Baptist Church has "promises to keep to God and the Late Great Pastor, Johnny Edward "Moses" Brown, Sr., and miles to go" before she sleeps…… so the journey continues under the Pastoral Leadership of Rev. Johnny Edward Cedric Moses Brown, Jr.

Our funding Pastor's Bio
Reverend J. Edward "Moses" Brown, Sr.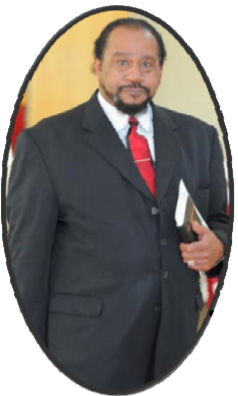 REVEREND J. E. "MOSES" BROWN, SR., is a native of Dallas, Texas reared in Hamilton Park. He is the youngest son of the late Deacon William Brown and Samella Brown; and a significant voice of Christianity throughout the community. His diligent, teaching is based on the infallible truths of God's Word. Reverend Brown received his formal education from the Hamilton Park High School and Draughron Business School. In June of 1974 he accepted his call in the Gospel Ministry under the Pastoral leadership of the late Reverend Tommy Earl Brown, Hopewell Missionary Baptist church. He received his seminary studies from the Inter-Racial Baptist Institute, Dallas, Texas and received his Bachelor of Theology from the Sacramento Theological Seminary.
He was affiliated with the Dallas Minister Union of Dallas, Dallas Baptist Association and the Baptist General Convention of Texas.
He is the Pastor and founder of the Burning Bush Missionary Baptist Church organized in 1977 with 16 members.
2002 he opened the Burning Bush Christian Academy and serves as the Executive Director.
2004-2006 served as Moderator of the Christian Fellowship District Association.
2008 –Established the Senior's Day out program for seniors in the Oak Cliff Community
2008 enrolled in the PAN food program to assisted senior citizens in the Dallas area with food.
2010 –Added the Prayer Chapel/Educational building to give everyone an opportunity to grow in the grace and knowledge of our Lord and Savior Jesus Christ. Pastor Brown has not taken lightly the Lord's command, "Feed my sheep."
August 2017 – Celebrated 40th Pastor's Anniversary
November 1, 2017 Passed the Touch to his Son, Rev. Johnny E.C.M. Brown, Jr.
December 2018 –set out to remodel the church.
Deceased –March, 2018
Pastor Brown was a father, grandfather and Papa to the Academy, Entrepreneur, investor,
Visionary and great Bible Teacher.
Founder, Burning Bush Missionary Baptist Church
4943 Bonnie View Road ~ Dallas, Texas 75241
Message from the Pastor and Founder
Passing the Torch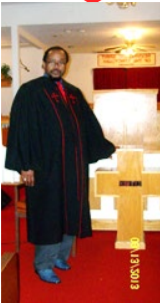 I am certain that 2018 will bring changes and challenges. As disciples of Jesus Christ and citizens of his kingdom, I would encourage you to face the future with hope. Remember that our mission and call remains the same. Also remember that to fulfill our calling we must work together, whatever the outlook, seek the Spiritual guidance and strength that you may respond faithfully to those changes and challenges as Christ's Ambassadors, good and faithful servants of the Lord of love.
Like David God gave me a vision of a church to be built on Bonnie View Road in Oak Cliff. He allowed me with the help of the membership to see the vision unfold. What a blessing it has been to see. I have made all the preparations so that my son can and will succeed as Pastor of the Burning Bush Missionary Baptist Church. Passin
John 3:30- (KJV)-30 He must increase, but I must decrease.
God instructs parents to demonstrate His love to their children and teach His Word diligently. Parents are commanded to "teach His Word unto thy children, and shalt talk of them when thou sittest in thine house, and when thou walkest by the way, and when thou liest down, and when thou risest up"
(Deuteronomy 6:7).
As a Pastor, father and founder of the Burning Bush Missionary Baptist Church; in November 2017, I passed the torch to my son, Rev. Johnny Edward Cedric Moses Brown, Jr. who will proceed me as Pastor of the Burning Bush Missionary Baptist Church. A torch that yet burns that he might continue the race that is set before us as I am yet behind him teaching and instructing along the way that he might run well.
"To my son the Lord and I have given you spiritual wisdom; but as it is written, Eye hath not seen, nor ear heard, neither have entered into the heart of man, the things which God hath prepared for them that love Him (I Corinthians 2:9). This Church, the torch I have passed you, I have carried in my heart, hands and head for these 40 years and I know you will do likewise, keep it close to your heart and you will lack nothing."
I have lived with the heart of God and He has given me spiritual and material wealth. It is my prayer that my life teaching and training and most of all my love will leave an imprint of faith that is unmistakable, unforgettable, and eternal. And by God's wonderful grace it will also be a torch that can be carried by my son as he continues the next leg of this Christian race.
You might ask yourself what do we do? "I say choose Joy and Peace! "